Query Group Store
Pay an Invoice
After clicking "Buy Now," be sure to set the payment amount on the left side.
QuickFix Accounts
When you're just looking for quick answers or occasional help. If you're a new client, please call or email about your needs before ordering. More...
You can set the quantity on the left hand panel once you click "Buy Now."
(Time in the account doesn't expire, but it's non-refundable.)
Mastering SurveyPro Training Series
Self-paced training including video demonstrations and PDF workbook. Immediately upon purchase, you'll be provided a link to the full product download. More...
Auditing Projects & Creating Templates

Download
Complete content including videos and printable Adobe Acrobat PDF of workbook
$ 175
Note: Download links are sent within one business day of ordering. Manuals and CDs are printed and shipped within a week.
PayPal Tips
You can pay with your business credit card—there's no need to set up a PayPal account or connect your bank account.
If you don't have a PayPal account, simply click the link below the login fields.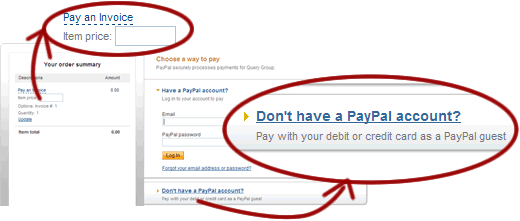 Need a Hand?
A little help can add a lot of polish—or just save hours and headaches:


I rely on Query Group for prompt, accurate turnaround of my reporting projects. Being able to call on Ann lets me take on projects when my full time staff is already busy.
Ron Morris
President
Feedback Systems